NEO Planner V2.4 - NEOCP Check - Explanations
---
[upwards] [Geo settings] [File Structure] [Object selection] [No Go Areas] [Common restrictions] [CCD Parameters] [More objects] [Loading] [Execute planning] [Revise] [Object information] [Ephemeris details] [NEOCP Check] [Show changes] [Statistics] [Impressum]
---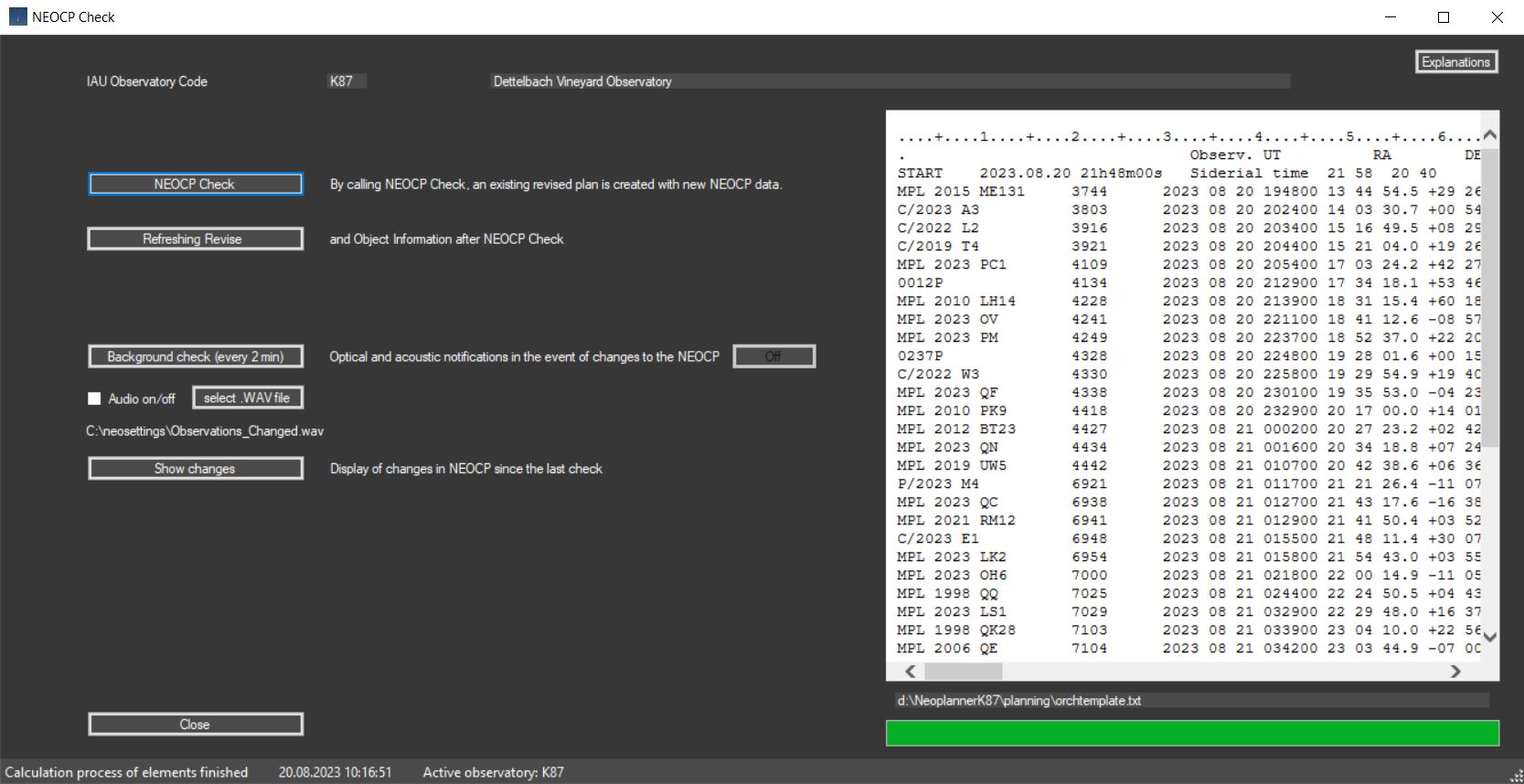 The NEOCP Check function enables the planning to be updated quickly, including the current NEOCP display. It is checked whether there are updates for individual NEOCP objects,
whether these have been deleted or an M.P.E.C. publication took place. If new provisional numbers are assigned, these will be determined and displayed.
Detected changes are marked dark red in the Object Information Window.
Changes made in the Revise window beforehand, such as new or deleted objects in the display or changes in the number of groups, are retained. However,
not changes in the order of the objects or copied lines.
Any number of checks can be carried out for each completed planning at reasonable time intervals. A new planning in the Execute Window causes a complete reset.
The display is only updated by pressing the Refresh Revise button.
All changes to the NEOCP since the NEOCP Check was last called up are listed here.
Objects that have been removed from the NEOCP or which have a provisional number and a publication in an M.P.E.C. are also marked. A sorting option is also offered.
© Copyright: The data comes from official access to web services from MPC, whose origins are the tireless measurements of dozens of professional and amateur observatories around the world